Download Poster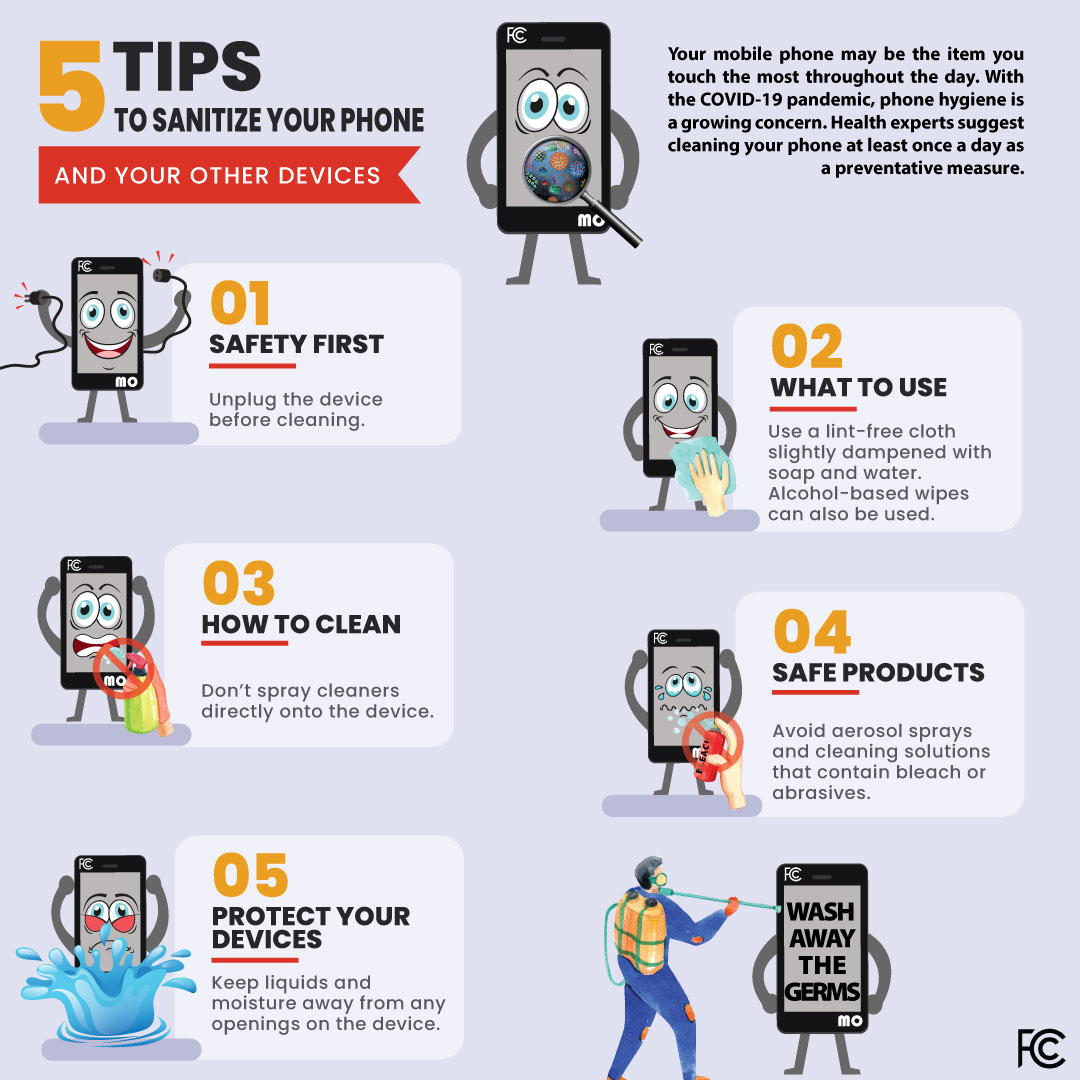 Five Tips to Sanitize Your Phone
Heading back to school during the ongoing pandemic presents students, families, and teachers with a unique set of challenges.  This is true whether it's in-person, online, or a hybrid of both.  For students taking classes online, broadband connectivity is critically important.
If you have a home internet connection, make sure your current plan offers the speed and capacity you need to support everyone who needs to be online.  With parents working from home and many schools offering more robust online learning programs, you may have more devices streaming and use more data than expected.  Our guide on how to optimize your home network has tips to evaluate and get the most out of your current setup.
If you don't currently have home internet service, check with your local providers to see what offers may be available.  Areas that are not served by a wired service provider, like a telephone or cable company, may be served by mobile and fixed wireless providers.  Learn more about getting connected to broadband.
Also, local schools and libraries may offer free Wi-Fi hotspots or equipment to help you get connected.  Contact your school district or library to learn about what they may have available.
When connecting to Wi-Fi hotspots, it is important to keep security in mind.  Our guide on how to protect yourself online includes a number of tips.
However you connect, you can learn more about your internet speeds and network performance by running an FCC Speed Test.  The recently updated app is available for Android devices from Google Play and for iOS devices from the Apple App Store.
Device Hygiene Best Practices
The Centers for Disease Control and Prevention recently posted updated guidance for school administrators, focusing on best practices and key considerations to prepare K-12 students for a safe return to school.  That guidance urges school officials to "communicate, educate and reinforce appropriate hygiene and social distancing practices" for students, teachers and staff.
Many students carry a mobile phone or use a tablet for assignments. Health experts suggest cleaning your device at least once a day. The FCC's consumer guide on how to sanitize your phone and other devices includes helpful recommendations from device manufacturers, including:
Unplug your device before cleaning it.
Use a lint-free cloth that is slightly dampened with mild soap and water.
Do not spray cleaners directly onto the device.
Avoid aerosol sprays and cleaning solutions that contain bleach or abrasives
Keep liquids and moisture away from any openings on the device.
Additional Federal Resources
More information on preparing and protecting yourself, as well as what to do if you think you may have contracted the virus, is available at coronavirus.gov.
The Department of Education also offers information and resources to help you navigate the path back to school safely amid COVID-19.