Device Hygiene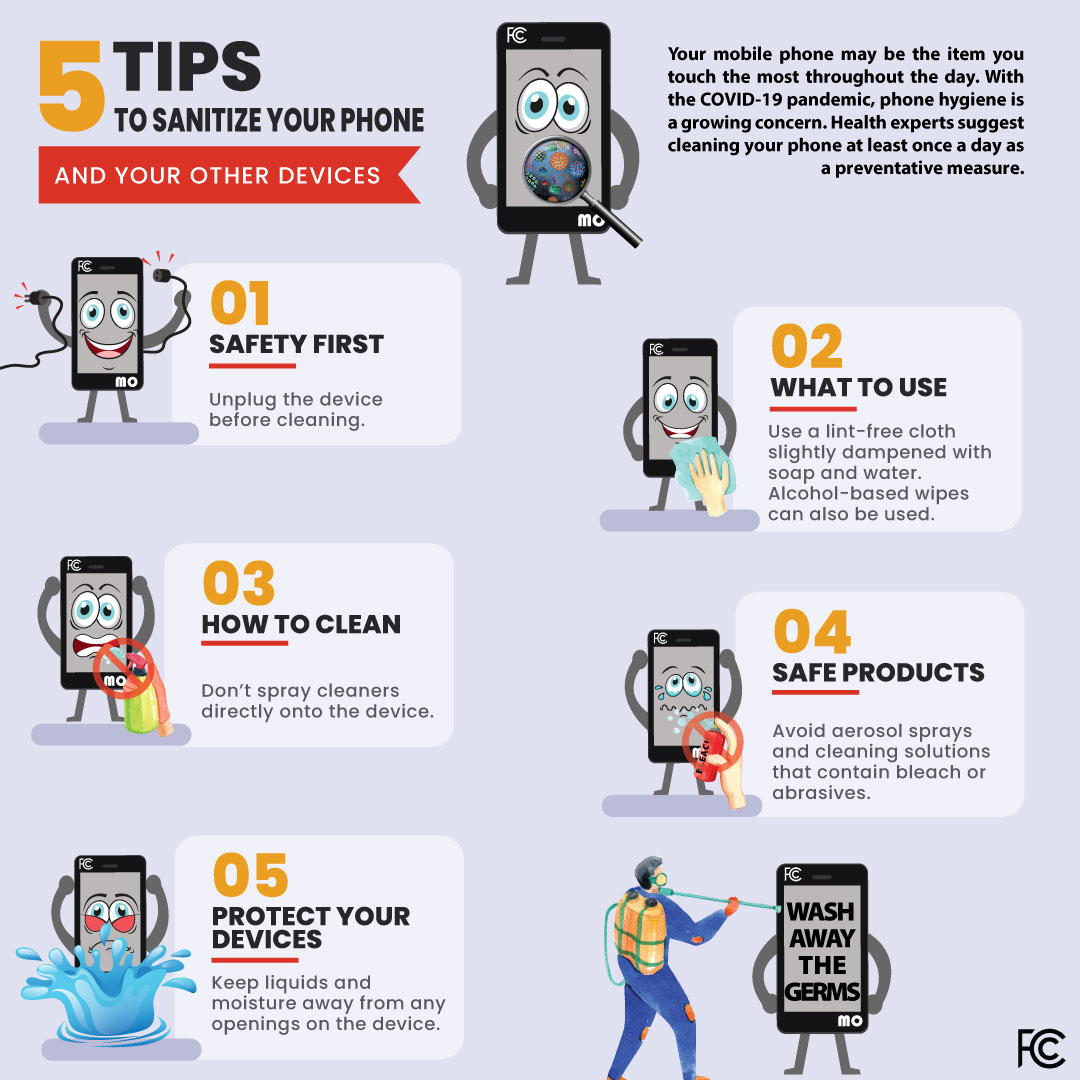 Download Poster: Five Tips to Sanitize Your Phone
Many students carry a mobile phone or use a tablet for assignments. Health experts suggest cleaning your device at least once a day. The FCC's consumer guide on how to sanitize your phone and other devices includes helpful recommendations from device manufacturers.
More Information
Optimize Your Home Network
If you have a home internet connection, you may find that you have more devices streaming and you're using more data than expected. Check out our guide on how to optimize your home network has tips to evaluate and get the most out of your current setup.
Going back to school can be an exciting time for students, families, and teachers. Each year, more schools are providing students with connected devices and assigning homework that requires spending time online. This is why home internet access is critically important for every student's success.
To help more families afford the cost of a home internet connection, the FCC has set up the Affordable Connectivity Program (ACP) to help ensure households have the internet access they need for school, work, healthcare and more.
The benefit provides a discount of up to $30 per month toward internet service for eligible households and up to $75 per month for households on qualifying Tribal lands. Eligible households can also receive a one-time discount of up to $100 to purchase a laptop, desktop computer, or tablet from participating providers if they contribute more than $10 and less than $50 toward the purchase price.
How to Qualify for ACP
You may qualify for the ACP discount if your student participates in the Free and Reduced-Price School Lunch Program or the School Breakfast Program, including through the USDA Community Eligibility Provision or if your household includes a student who received a Federal Pell Grant in the current award year.
You may also qualify if the household income is at or below 200% of the Federal Poverty Guidelines or a member of the household participates in one of the following programs:
SNAP
Medicaid
Housing Choice Voucher (HCV) Program (Section 8 Vouchers)
Project-Based Rental Assistance (PBRA)/202/811
Public Housing
Supplemental Security Income (SSI)
WIC
Veterans Pension or Survivor Benefits
Lifeline
Or Participates in one of these assistance programs and lives on Qualifying Tribal lands:
Bureau of Indian Affairs General Assistance
Tribal TANF
Food Distribution Program on Indian Reservations
Tribal Head Start (income based)
Affordable Housing Programs for American Indians, Alaska Natives or Native Hawaiians
Various internet providers, including those offering landline and wireless internet service, are participating in the Affordable Connectivity Program. You can you can find internet service providers offering the benefit in your state or territory here: https://www.fcc.gov/affordable-connectivity-program-providers.
It only takes two steps to enroll. Learn more at AffordableConnectivity.gov.
Check With Local Schools and Libraries
Local schools and libraries may offer free Wi-Fi hotspots or equipment to help you get connected. The FCC's Emergency Connectivity Fund has provided has committed nearly $5.8 billion in program funding to provide over 13 million students with broadband connections and equipment. Total commitments to date have funded nearly 12 million connected devices and more than 7 million broadband connections. Contact your school district or library to learn about what they may have available.
Safety First
When connecting to public Wi-Fi hotspots, it is important to keep security in mind. Our guide on how to protect yourself online includes a number of tips.
Parents, you may need to help your students set up strong passwords on their devices and download any required apps for school. Check out our consumer guide if it's your kid's first phone. Make sure your kids know they should not respond to callers they don't know or click on links in texts without showing you first. These call-blocking tools and resources may help protect your kids from robocall scams.
Finally, check out our guide about protecting your device, with tips about safeguarding against theft, protecting personal data, and what to do if your child's device is lost or stolen.
Updated:
Monday, September 26, 2022