More Information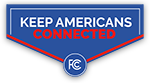 The FCC urges Americans to be alert to COVID-19 phone and text scams.
Learn how broadcasters are serving their communities in response to COVID-19.
For more information on the FCC's actions related to the coronavirus pandemic, please visit fcc.gov/coronavirus.
To learn more about government-wide information related to COVID-19 activities, visit usa.gov/coronavirus. For Spanish-related information, visit gobierno.usa.gov/coronavirus.
FCC Chairman, Ajit Pai, has called on broadband and telephone service providers to maintain connectivity for Americans experiencing disruptions caused by the coronavirus epidemic, asking them to take the "Keep Americans Connected Pledge."
The response from service providers across the nation has been resoundingly positive. So far, more than 750 service providers have taken the pledge and have extended that commitment to June 30.
Chairman Pai has also challenged companies to go above and beyond the pledge, urging them to expand existing or develop new low-income broadband programs. He also called on broadband providers to relax their data usage limits in appropriate circumstances and take steps to promote remote learning and telehealth. Companies that are taking additional steps at no extra cost to consumers include, but are not limited to:
The FCC has temporarily waived Lifeline usage requirements and general de-enrollment procedures until June 30, 2020.  Three FCC orders, released on March 17, March 30, and April 29, will help ensure that no current Lifeline subscribers are involuntarily removed from the Lifeline program during this time of national crisis. The orders also direct the Lifeline program administrator to pause any involuntary de-enrollment of existing subscribers until that date. Additionally, on April 29, 2020, the FCC temporarily waived the requirement that consumers seeking to qualify for the program based on their income must provide at least three consecutive months of income documentation.
To learn more about other low cost broadband options visit everyone.org.