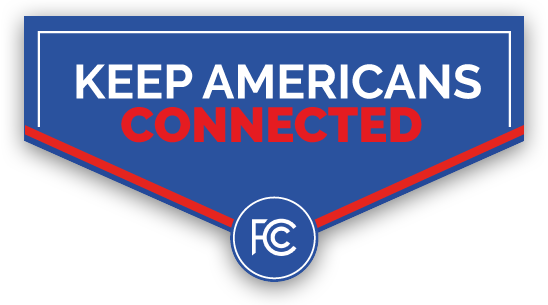 Keep Americans Connected Pledge
In response to the COVID-19 pandemic, and the challenges that many Americans have faced, FCC Chairman Ajit Pai announced the Keep Americans Connected Initiative on March 13, 2020 and extended it to June 30, 2020. In order to ensure that Americans do not lose their broadband or telephone connectivity as a result of these exceptional circumstances, he specifically asked broadband and telephone service providers, and trade associations, to take the Keep Americans Connected Pledge. More than 800 companies and associations signed the Chairman's pledge, which read as follows:
Given the coronavirus pandemic and its impact on American society, [[Company Name]] pledges to:
not terminate service to any residential or small business customers because of their inability to pay their bills due to the disruptions caused by the coronavirus pandemic;
waive any late fees that any residential or small business customers incur because of their economic circumstances related to the coronavirus pandemic; and
open its Wi-Fi hotspots to any American who needs them.
Chairman Pai has also urged companies with low-income broadband programs to expand and improve them and those without them to adopt such programs. He called on broadband providers to relax their data usage limits in appropriate circumstances and take steps to promote remote learning and telehealth. See the list of companies that went above & beyond and additional steps they have taken.
More Ways the FCC is Keeping Americans Connected
Learn more about additional FCC efforts to address COVID-19 at fcc.gov/coronavirus.
Releases
July 8, 2020 - News Release
FCC Approves Final Set of COVID-19 Telehealth Program Applications
July 1, 2020 - News Release
FCC Approves 13th Set of COVID-19 Telehealth Program Applications
June 26, 2020 - Order
FCC Extends Waiver of Sponsorship ID Requirements for COVID-19 PSAs
June 24, 2020 - News Release
FCC Approves Twelfth Set of COVID-19 Telehealth Program Applications
June 19, 2020 - News Release
FCC Chairman Urges Congress to Help Consumers Stay Connected
June 17, 2020 - News Release
FCC Approves Eleventh Set of COVID-19 Telehealth Program Applications
June 10, 2020 - News Release
FCC Surpasses $100 Million in Approved COVID-19 Program Applications
June 3, 2020 - News Release
FCC Approves Ninth Set of COVID-19 Telehealth Program Applications
June 2, 2020 - News Release
FCC Boosts Wireless Broadband for Rural Kentucky
June 1, 2020 - Letter
FCC Partners with NARUC to Raise Lifeline Awareness During COVID-19
June 1, 2020 - News Release
FCC Streamlines Lifeline Process for Tribal Consumers
May 29, 2020 - News Release
FCC Grants Makah Tribe Spectrum Access for Broadband During Pandemic
May 28, 2020 - News Release
FCC Approves Eighth Set of COVID-19 Telehealth Program Applications
May 20, 2020 - News Release
FCC, FTC Demand Robocall-Enabling Service Providers Cut Off Scammers
May 20, 2020 - News Release
FCC Approves Seventh Set Of COVID-19 Telehealth Program Applications
May 14, 2020 - News Release
Broadband, Telephone Providers Extend Keep Americans Connected Pledge
May 14, 2020 - News Release
FCC Extends Temporary Waivers For Relay Services Rules During Pandemic
May 13, 2020 - News Release
FCC Approves Sixth Set of COVID-19 Telehealth Program Applications
May 6, 2020 - News Release
FCC Approves Fifth Set Of COVID-19 Telehealth Program Applications
May 4, 2020 - Order
FCC Makes It Easier for Companies to Rehire Laid Off Employees
May 4, 2020 - News Release
5.9 GHz Band Boosts Consumer Internet Access During Covid-19 Pandemic
April 30, 2020 - News Release
Chairman Pai Extends Keep Americans Connected Pledge Through June 30
April 29, 2020 - News Release
FCC Eases Lifeline Process for Unemployed Americans During Pandemic
April 29, 2020 - News Release
FCC Approves Fourth Set of COVID-19 Telehealth Program Applications
April 27, 2020 - News Release
FCC and U.S. Department of Education Promote Remote Education
April 23, 2020 - News Release
FCC Approves Third Set of COVID-19 Telehealth Program Applications
April 21, 2020 - News Release
FCC Approves Second Set of COVID-19 Telehealth Program Applications
April 21, 2020 - Public Notice
Waiver of the Red Light Rule for the COVID-19 Telehealth Program
April 17, 2020 - News Release
FCC Grants Navajo Nation Temporary Spectrum Access During Pandemic
April 17, 2020 - Speech
Chairman Pai Remarks on Regulation in Times of Pandemics
April 16, 2020 - News Release
FCC Approves First Set of COVID-19 Telehealth Program Applications
April 16, 2020 - Public Notice
FCC Tasks BDAC Working Group With Addressing COVID-19 Challenges
April 10, 2020 - News Release
FCC Grants NYC Fire Department Spectrum Access During Pandemic
April 10, 2020 - Public Notice
Public Safety Licensee Guidance on COVID-19 STA and Waiver Requests
April 10, 2020 - News Release
FCC Enables Rapid Cell Site Deployment for Wisconsin COVID-19 Facility
April 10, 2020 - News Release
FCC's COVID-19 Telehealth Program Application Portal Opens on Monday
April 9, 2020 - News Release
FCC Provides TV Stations Flexibility to Air Local Community Events
April 8, 2020 - Public Notice
Guidance on the COVID-19 Telehealth Program Application Process
April 6, 2020 - News Release
Chairman Pai Thanks Broadcasters for Their Response to COVID-19
April 2, 2020 - Report and Order
FCC Fights COVID-19 with $200M; Adopts Long-Term Connected Care Study
April 2, 2020 - News Release
Chmn Pai Hears Update from Broadband and Telephone Service Providers
April 1, 2020 - News Release
FCC Enables Rural Broadband Providers to Waive Consumer Fees
April 1, 2020 - News Release
FCC Extends Key E-Rate Program Deadlines Due to COVID-19 Pandemic
April 1, 2020 - Public Notice
WTB Issues STA and Waiver Filing Guide
March 30, 2020 - News Release
Chairman Pai Announces Plan for $200 Million COVID-19 Telehealth Program
March 30, 2020 - News Release
FCC Acts to Keep Lifeline Subscribers Connected During COVID-19
March 27, 2020 - News Release
Home Network Tips for the Coronavirus Pandemic
March 27, 2020 - News Release
FCC Ensures Americans Can Access Zoom and WebEx During COVID-19 Crisis
March 27, 2020 - News Release
FCC Grants WISPs Temporary 5.9 GHz Spectrum Access for Rural Broadband
March 26, 2020 - News Release
FCC Provides Relief for Rural Health Care Program Participants
March 25, 2020 - News Release
FCC's Keep Americans Connected Pledge Surpasses 500 Signatures
March 24, 2020 - Blog Post
Stepping Up to the Coronavirus Challenge - FCC Chairman Ajit Pai
March 20, 2020 - News Release
FCC Grants AT&T and Verizon Temporary Spectrum Access During Pandemic
March 20, 2020 - Consumer Advisory
FCC Warns of COVID-19 Robocall & Text Scams
March 19, 2020 - News Release
Chairman Pai Welcomes More Keep Americans Connected Pledge Signers
March 19, 2020 - News Release
FCC Grants Deadline Extension for Certain 3650-3700 MHz Licensees
March 18, 2020 - News Release
FCC Grants Verizon Temporary Spectrum Access During COVID-19 Pandemic
March 18, 2020 - News Release
FCC Acts to Support Telehealth & Remote Learning During Coronavirus
March 18, 2020 - Order
FCC Waives RHC and E-Rate Gift Rules Due to COVID-19
March 18, 2020 - News Release
FCC Chairman Thanks Companies Going Above and Beyond Pledge
March 17, 2020 - News Release
FCC Grants US Cellular Temporary Spectrum Access During Coronavirus
March 17, 2020 - News Release
FCC Waives Lifeline Rules to Help Keep Low-Income Consumers Connected
March 17, 2020 - News Release
Chairman Pai Commends Broadcasters' Coronavirus Response
March 17, 2020 - Public Notice
Guidance for Stations in Phase 9 of the Post-Incentive Auction
March 16, 2020 - News Release
More Providers Take Chairman Pai's Keep Americans Connected Pledge
March 16, 2020 - News Release
FCC Grants Flexibility to TRS Providers During Coronavirus
March 16, 2020 - Order
FCC Grants Temporary Waiver of Certain TRS Rules During Coronavirus
March 15, 2020 - News Release
FCC Grants T-Mobile Temporary Spectrum Access During Coronavirus
March 13, 2020 - News Release
Chairman Pai Welcomes Increase in Rural Health Care Funding
March 13, 2020 - Public Notice
WCB Extends E-Rate Application Filing Window for FY20 Due to COVID-19
March 13, 2020 - News Release
Chairman Pai Launches the Keep Americans Connected Pledge