The Mapping Broadband Health in America platform allows users to visualize, overlay and analyze broadband and health data at the national, state and county levels.  The maps are an interactive experience, enabling detailed study of the intersection between connectivity and health for every county in the United States.  The resulting maps can be used by both public and private sectors, and local communities, to identify opportunities and gaps in connectivity and care.
In June 2017, the FCC's Connect2Health Task Force announced updates to the platform and released new Priority 2017, Rural Priority 2017, and Positive Trend Counties lists.  The platform now reflects the latest complete annual fixed broadband dataset from the Commission and updated health data from the Robert Wood Johnson Foundation's County Health Rankings.  As telehealth, telemedicine, and other cutting-edge mHealth initiatives gain momentum across the country, this web-based mapping platform enables more efficient, data-driven decision making at the intersection of broadband and health.  View the press release and key findings.
Learn more about the mapping platform.  View the tutorials, webinar video, and FAQs.
Sample Maps
View the sample maps for a peek into the world at the intersection of broadband and health.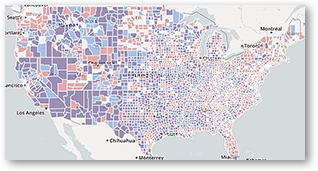 Rural Broadband and Physician Shortages.
  For rural America, broadband connectivity can serve as a gateway to a number of services, including health care. The ability to connect consumers to health care services through broadband is particularly important in areas where chronic disease prevalence is high and physician access is low. This map shows all U.S. counties that have 80 physicians or fewer, per 100,000 people. Purple shading identifies "double burden" counties where rural broadband access is less than 50%, and physician shortages are most acute (above the national average).  Pink shading identifies counties with higher levels of broadband access, where connectivity can be part of the solution to the primary care physician shortages in those areas. 
View map
.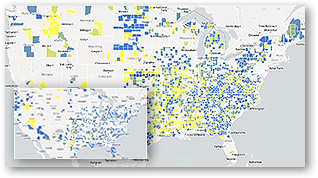 Broadband and Diabetes in Rural America.
  According to the CDC, over 29 million Americans have diabetes, a chronic disease gateway to other health conditions.
This map
shows broadband access levels in counties where the majority of the population is rural and diabetes is greater than the national average. (Yellow areas have comparatively lower broadband access rates than blue.)  Many rural communities with the highest diabetes prevalence also have the lowest broadband access.
The inset map
shows broadband access levels in urban communities where diabetes is greater than the national average. These two maps help visualize the rural/urban broadband gap.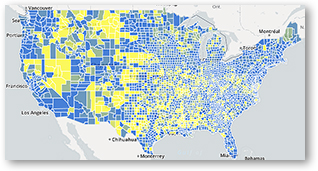 Broadband Gaps in America.
While the nation continues to make progress in broadband deployment, millions of Americans still lack access to adequate broadband, especially in rural areas and on Tribal lands.  This baseline map visualizes broadband access at the county level and identifies connectivity gaps — the lighter the color, the lower the percentage of households with broadband access.  Toggle the map between state and county levels to see regional patterns and potential challenges in accessing broadband-enabled health tools. View
state
,
county
, and
rural
broadband maps.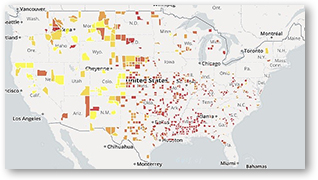 Broadband Access and Obesity.
  According to the CDC, more than one-third of adults in the U.S. have obesity.  Obesity-related conditions, such as heart disease, stroke, type 2 diabetes and certain types of cancer, are some of the leading causes of preventable death. 
This map
identifies all the majority rural counties where fixed broadband access is 30% or less, i.e., where 7 out of every 10 people lack access to high speed Internet at home, and shows obesity prevalence in those counties on a sliding color scale of yellow (low) to red (high).  Concentrated in parts of Oklahoma, Missouri, Arkansas, Louisiana and Mississippi, areas in red have high levels of obesity that are 6 to 10 points above the national average and low broadband access.
View additional sample maps on Broadband and Physician Access, Broadband Health Double Burden Areas, and Rural Broadband Access Below 50%.
Priority 2017, Rural Priority 2017, and Positive Trend Counties
In conjunction with the release of Mapping Broadband Health in America 2017, the Task Force conducted a series of data analyses and identified key "critical need" counties at the intersection of broadband and health with the goal of driving better decision-making and creating a roadmap for private investment and coordinated public support.  All U.S. counties were considered for inclusion in the nationwide priority list, the Priority 2017; only counties with majority rural population were considered for the Rural Priority 2017 list. View the Priority 2017 and Rural Priority 2017 lists.

Also new this year is our Positive Trend Counties (PTC) inventory.  The counties included on this PTC inventory were previously identified as having critical broadband health needs, but the latest data reflects progress (to above our specified thresholds) in either their broadband access metrics and/or health status. If positive trends continue, these counties would "graduate" from the lists altogether.  View the Positive Trend Counties inventory.
Learn more about the list methodology.
Tutorials
Learn more about how to navigate the mapping platform using our tutorials. You'll learn how to create customized maps to show many different contexts and angles on broadband and health data, like broadband access, broadband speeds, Internet adoption, and health outcomes including obesity, diabetes, preventable hospitalization and physician access. You can also slice the resulting maps by rural/urban demography.
FAQs
Visit our Frequently Asked Questions page for additional information about the maps, including information on data sources and methodology.
Press Kit and Related Materials
Visit our press kit and related materials page to download a variety of materials including a press release and key findings.
Overlay Your Data
To extend the analytic power of the platform, the mapping platform was built using an Open Integration model, putting the power of the platform in the hands - and within the data - of the user and local communities. This allows users to integrate their own datasets. Learn more.
For Developers
Learn more about open data and open integration.
Events
In November 2016, the FCC's Connect2Health Task Force and the Consumer and Governmental Affairs Bureau's Office of Intergovernmental Affairs co-hosted a webinar to further explore the potential of the Mapping Broadband Health in America platform for the public sector. This one-hour "deeper dive" webinar was particularly tailored to the needs and interests of state and local government offices and agencies. View the webinar video.
On August 2, 2016, the FCC's Connect2Health Task Force held a launch event for this mapping platform. Learn more.
Provide Feedback
The Connect2HealthFCC Task Force welcomes your suggestions and feedback as we continue to develop and refine the Mapping Broadband Health in America platform. Please submit comments with the Subject Line: "Mapping" to engageC2H@fcc.gov. You may also provide formal comments about the maps or submit additional data for the record via the FCC's Electronic Comment Filing System, using GN Docket 16-91.