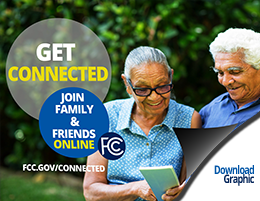 At the FCC, we know first-hand the value of broadband access as a driver for economic opportunity, job creation, education and civic engagement. Under Chairman Pai, the FCC has committed to closing the digital divide between those who have access to cutting-edge communications services and those who do not—especially those in unserved, oftentimes rural, areas.
The FCC is also working to promote the benefits of broadband service among older Americans. While a recent Pew Research Center report shows significant growth in broadband adoption among Gen Xers and Baby Boomers, many older Americans remain on the sidelines of the digital revolution, lagging far behind the generations that have followed.  
Why the lag? Conventional wisdom points to a generational technophobia, but we find that explanation somewhat simplistic.  An important factor is that seniors have not been a typical target demographic for early adoption and the lion's share of product marketing remains focused on younger Americans.
At the FCC, it's our job to help inform all generations about the full range of benefits broadband can offer. As Chairman Pai stated recently in a speech to Project GOAL's Conference on Aging and Technology: "Getting everyone connected could tremendously improve the lives of older adults. New technologies empower older Americans to live independently like never before."
As we mark Older Americans Month, the FCC's Consumer and Governmental Affairs Bureau is increasing its outreach efforts to seniors, engaging with partners such as the American Library Association in a campaign to help older Americans "Get Connected" with:
Loved ones, friends and family
Life-saving telemedicine and telehealth
Life-enhancing social engagement opportunities
Online shopping featuring home delivery
We are also launching a new "Get Connected" webpage with seniors in mind while including information relevant to all generations: fcc.gov/connected.  There you'll find answers to frequently asked questions about Getting Broadband, along with Household Broadband and Broadband Speed guides to help you determine what type of service suits you best.
The Get Connected web page also links to additional FCC resources and information. Older Americans may also be particularly interested in Connect2Health, with assorted features focusing on healthy aging through telehealth and telemedicine. Broadband access is critical to those services.  
If you're reading this blog post and you're an older American, then most likely you've found value in broadband adoption and are enjoying its benefits. You can join us in helping your peers Get Connected to broadband as well by downloading this poster and sharing it with local libraries, senior centers and other community gathering spots.