About the Task Force
Connect2HealthFCC is exploring the intersection of broadband, advanced technology and health and further charting the broadband future of health care – serving as an umbrella for all FCC health-oriented activities to help enable a healthier America.
Key Initiatives
Broadband Cancer Collaboration


As part of a MOU, the FCC and National Cancer Institute have joined forces to convene key stakeholders around a public-private partnership to help bridge the broadband health connectivity gap in Appalachia.  

Mapping Broadband Health in America
This innovative mapping platform enables data-driven decision making at the intersection of broadband and health.
Beyond the Beltway Series
This series explores how communities are leveraging broadband-enabled health technologies to improve access to health and care throughout the country.
---
Mapping Broadband Health in America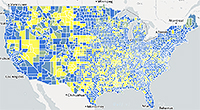 The Connect2HealthFCC Task Force's Mapping Broadband Health in America platform allows users to visualize, overlay and analyze broadband and health data at national, state and county levels - informing policy and investment decisions. The interactive maps show connectivity and health intersections for every U.S. county. Users can generate customized maps showing broadband access, adoption and speed alongside various health measures (e.g., obesity, diabetes and physician access) in urban and rural areas.
---
Faces of Connected Care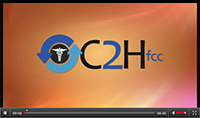 This video shows the positive impact of public-private partnerships on health outcomes and how broadband-enabled health technologies have made a difference to diabetes patients in Mississippi.
Watch video
.
---
Blog: A Texas State of Mind - Connected Health in Houston and the Rio Grande Valley
"Texas is a state of mind," said John Steinbeck referring to the unique combination of passion, cohesiveness and independence so common to the state.  The FCC's Connect2HealthFCC Task Force experienced this first-hand during its recent "Beyond the Beltway" visit to Houston and the Rio Grande Valley.  In celebration of Mental Health Awareness Month, the visit was anchored by a Broadband Prescriptions for Mental Health conference co-hosted by the renowned University of Houston Law Center's Health Law and Policy Institute, with the Law Center's esteemed Dean, Leonard M. Baynes.
Read the blog post | Connect2HealthFCC blog posts
---
Broadband Health Imperative
Broadband-enabled health technology solutions can help us meet the health and care challenges of today and tomorrow by connecting people to the people, services, and information they need to get well and stay healthy.
Learn more about the broadband health imperative
.
---
Connectivity & Health Snapshot

The Connect2HealthFCC maps provide a high level snapshot of the current state of affairs at the intersection of broadband, connectivity and health in various states across the country. Virginia is the first map in our series and is a follow-up to the Task Force visit to Charlottesville in late 2014. Here you can interact with and begin to experience Virginia's story of health and connectivity. Learn more and provide feedback.
---
Funding
Funding Sources for Broadband-Enabled Health Care: Financial support available for initiatives connecting broadband services and health care delivery.
---
Consumers
The Connect2HealthFCC Task Force tip sheets, available in English and Spanish, offer tips to help consumers engage in their own health care through broadband-enabled services.
Tips and Information
Digital Health: Share Your Story
We want to know how you are "connecting" to health! How are you using technology to address a health problem? Which digital health tools work best for you? You can email us at engageC2H@fcc.gov and send us your pic, audio file or video.
---
Policymaking
The FCC remains committed to doing its part to accelerate the adoption of broadband-enabled health care solutions and the development and availability of health-related technologies for all Americans. This is a collaborative effort involving multiple bureaus and offices. For example, the Wireline Competition Bureau (WCB) oversees the Healthcare Connect Fund, to expand health care provider access to broadband, especially in rural areas. The Office Engineering and Technology (OET) manages spectrum and works to create new opportunities for competitive technologies, including wireless medical devices.
Explore the FCC's Policymaking Milestones: FCC, Broadband and Health Milestones (1996 – 2018)
Significant FCC actions and activities for improving health care, expanding access to broadband, facilitating the development of advanced health care technologies, and creating new opportunities for innovators and entrepreneurs. Click on the graphic to learn more about the milestones and events.