"In this world nothing can be said to be certain, except death and taxes." – Benjamin Franklin
Franklin might add illegal robocalls were he alive today, with a possible worst-case scenario: a robocall from a scammer claiming to be from the IRS demanding immediate payment.
Such calls can appear legitimate, but you can be sure they aren't made by the IRS. The agency doesn't initiate such contact by phone.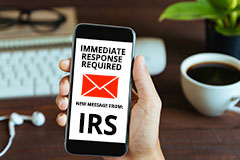 IRS impersonators often use bullying tactics such as threatening legal action, including fines and jail, if you don't comply with their demands. You should know that the IRS never requests immediate payment or personal information over the phone. Nor does it insist on a specific payment method to satisfy tax obligations. And it never accepts any form of a gift card or iTunes payments to settle a tax bill.
The FCC receives consumer complaints year-round about illegal robocalls from such scammers. If you have caller ID, the number may even appear to be authentic, having been deliberately falsified or "spoofed" by the scammer. In addition to stealing your money, scammers may also lure you into giving out personal information, such as your social security number, or your bank account or credit card numbers that they can use to commit more crimes, such as identity theft.
Don't be fooled by a spoofed number that appears to be from the IRS. The FCC recently approved new robocalls rules allowing phone companies to block calls from IRS numbers that the agency says can only receive calls and are not used to place calls. These rules should help to reduce the frequency of such calls, but you should be vigilant about any calls that look and sound suspicious.
Steps to protect yourself
Do not give out any of your personal information over the phone. If you receive a call from someone claiming to be from the IRS, remember:
If you do not owe taxes and never received a bill in the mail prior to the call, hang up immediately. Then call the Treasury Inspector General for Tax Administration to report the incident at 1-800-366-4484.
If you think you owe taxes, hang up and call the IRS on their official number at 1-800-829-1040 to validate the call. If there is a valid tax issue, the IRS employees at this number will assist you.
File a complaint with the FCC
Consumers can file complaints online about telecom billing and service issues, unwanted calls, and other matters the FCC oversees. You can find information about the FCC's informal complaint process, including how to file a complaint, and what happens after a complaint is filed, on the FCC Complaint Center FAQ webpage.