More Information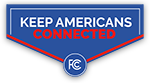 The FCC urges Americans to be alert to COVID-19 phone and text scams.
For more information on the FCC's actions related to the coronavirus pandemic, please visit fcc.gov/coronavirus.
To learn more about government-wide information related to COVID-19 activities, visit usa.gov/coronavirus. For Spanish-related information, visit gobierno.usa.gov/coronavirus.
FCC Chairman, Ajit Pai, has called on broadband and telephone service providers to maintain connectivity for Americans experiencing disruptions caused by the coronavirus epidemic, asking them to take the "Keep Americans Connected Pledge."
The response from service providers across the nation has been resoundingly positive. More than 550 service providers have taken the pledge. A number of major providers have created web pages with information and resources to help consumers during the pandemic. Companies that are taking additional steps at no extra cost to consumers include, but are not limited to:
The FCC has temporarily waived Lifeline usage requirements and general de-enrollment procedures until May 29, 2020. An FCC order, released on March 30, will help ensure that no current Lifeline subscribers are involuntarily removed from the Lifeline program during this time of national crisis. The order also extended a recent waiver of the program's recertification and reverification requirements to May 29, 2020, and directed the Lifeline program administrator to pause any involuntary de-enrollment of existing subscribers until that date.
To learn more about other low cost broadband options visit everyone.org.
Chairman Pai also thanked television and radio broadcasters for their efforts to educate the American people about the coronavirus pandemic, including the National Association of Broadcasters for making available a Coronavirus Response Toolkit with coronavirus-related public service announcements in English and Spanish. The Chairman also asked broadcasters to work with cable and satellite operators to avoid service disruptions during the next 60 days.