Rule Part
47 C.F.R, Part 22
Cellular Reform
The 800 MHz Cellular Service, launched by the FCC in the 1980's, helped transform the communications landscape by making mobile wireless telephone services broadly available to the American public. Today, Cellular Service is available nationwide, including parts of Alaska, reaching more than 99% of the U.S. population and leaving little area still unlicensed (Unserved Area).
For decades, the Cellular Service had been licensed on a site-by-site basis, and FCC rules required licensees to file applications even for minor technical changes to improve their systems. Other similar mobile wireless services, such as the Broadband Personal Communications Service and Advanced Wireless Services, are licensed geographically and FCC rules do not require licensees to file individual applications in many instances, including for minor technical changes.
On November 10, 2014, the FCC released a Report and Order (R&O) and a companion Further Notice of Proposed Rulemaking (FNPRM) to revise the Cellular licensing model from site-based to geographic-based, and to enhance technical flexibility. By the R&O, the FCC has adopted new and revised rules to eliminate regulatory requirements and modernize and streamline requirements remaining in place. Among the key changes adopted by the R&O, the FCC authorizes incumbents to serve indefinitely, on a secondary basis, Unserved Area parcels smaller than 50 contiguous square miles without any FCC filings; allows incumbents to continue to expand their Cellular Geographic Service Areas (CGSAs) into Unserved Area, so long as the expansion is at least 50 contiguous square miles; institutes the mandatory filing of electronic maps; establishes a field strength limit rule tailored to reflect the continued ability to expand Cellular service area coverage; and, with the exception of the Gulf of Mexico market, eliminates the need to submit filings related to negotiated extensions of service area boundaries. The various rule revisions are expected to reduce Cellular filings by at least 60 percent. The resulting licensing regime affords far greater flexibility to carriers to respond to changing market demands and expedite new service to consumers, while bringing the Cellular Service into greater harmony with other geographically licensed services.
In the FNPRM, the FCC proposes and seeks comment on additional Cellular Service reforms, including: a more flexible rule for permanent discontinuance of operations; the use of frequency coordinators for applications that propose a new or expanded CGSA; and changes in the radiated power rules that could foster the deployment of wider-band technologies such as LTE, including measurement of power using a power spectral density (Watts per Megahertz) model and other changes in related technical rules.
Cellular License Boundaries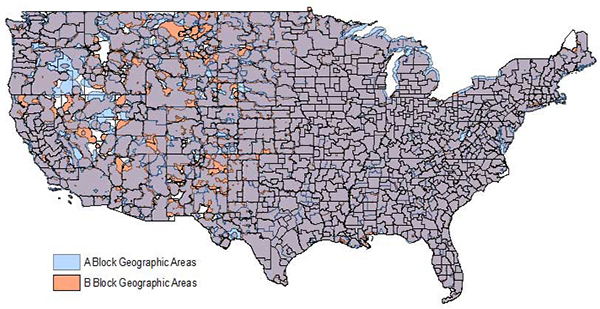 Cellular Releases
Resources