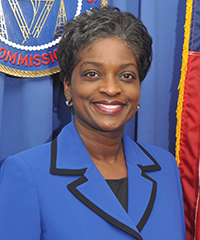 Commissioner Mignon Clyburn has served at the Federal Communications Commission (FCC) since 2009. She is currently serving her second term as a Democrat and was sworn in on February 19, 2013 following her re-nomination by President Barack Obama and confirmation by the United States Senate. Following her appointment, Clyburn also served as the first Acting Chairwoman of the FCC.
While at the FCC, Commissioner Clyburn has been committed to closing the digital divide. Specifically, she has been an advocate for Lifeline Modernization, which assists low income consumers defray the cost of broadband service, championed diversity in media ownership, initiated Inmate Calling Services reforms, emphasized diversity and inclusion in STEM opportunities, and fought to preserve a free and open internet.
Prior to the FCC, she spent 11 years as a member of the sixth district on the Public Service Commission (PSC) of South Carolina. Prior to the PSC, Clyburn was the publisher and general manager of her family-founded newspaper for 14 years, the Coastal Times, a Charleston-based weekly newspaper that focused primarily on issues affecting the African American community.
Louis Peraertz
Senior Legal Advisor, Wireless, International, and Public Safety
Louis Peraertz serves as Commissioner Clyburn's Senior Legal Advisor for wireless, international, and public safety issues. Mr. Peraertz joined then Commissioner Clyburn's staff in October 2009. Prior to this, he served as Special Counsel in the Wireless Telecommunications Bureau focusing on competition, spectrum allocation, and infrastructure policy issues. Mr. Peraertz began his communications career in the Office of General Counsel where, among other things, he represented the Commission in several cases before courts of appeal. Before coming to the FCC, Louis served as an appellate litigator in the U.S. Department of Justice's Civil Rights Division and represented the United States in more than 60 cases before federal courts of appeals. He began his legal career in the U.S. Army Judge Advocate General's Corps and was honorably discharged as a Major. Mr. Peraertz received his bachelor's degree from Princeton University and his J.D. from Harvard Law School.
Neşe Guendelsberger
Wireline Legal Advisor
Neşe Guendelsberger serves as Commissioner Clyburn's Legal Advisor for wireline and consumer protection matters. Ms. Guendelsberger joined Commissioner Clyburn's staff from her position as Senior Deputy Bureau Chief of the Wireless Telecommunications Bureau. Ms. Guendelsberger has held a number of positions in various Bureaus within the Commission, including in the Wireline Competition Bureau, in various capacities in her 18 years with the Agency. Before joining the Commission in 2000, Ms. Guendelsberger taught law at the University of Baltimore and the University of Ankara and was a consultant on transnational law matters. She has an LL.M. from the University of Michigan as well as law degrees from the University of Paris I (Pantheon-Sorbonne) and the University of Ankara.
Michael Scurato
Media Legal Advisor
Michael Scurato serves as Commissioner Clyburn's Legal Advisor for media issues. Mr. Scurato joins the Commissioner's staff from his position as a Legal Advisor to the Chief of the Enforcement Bureau. Prior to joining the Commission in 2016, Mr. Scurato was Vice President of Policy at the National Hispanic Media Coalition. While at NHMC, Mr. Scurato served on the Commission's Consumer Advisory Committee and the American Library Association's Public Policy Advisory Council. He received his law degree from Georgetown University Law Center, where he was a student in the Institute for Public Representation, a public interest law firm and clinical education program. He has a Bachelor of Arts from New York University.
April Jones
Policy Analyst and Special Assistant
April Jones serves as a Policy Analyst and Special Assistant to Commissioner Clyburn. Ms. Jones joins Commissioner Clyburn's office from Hausfeld LLP, a global antitrust law firm, where she was an attorney focusing on complex civil litigation matters in antitrust and consumer protection law. Prior to this role, Ms. Jones clerked at the Office of the U.S. Trade Representative, where she worked primarily on the E-commerce and Telecommunications portfolios. Additionally, Ms. Jones served as a political organizer on Hillary Clinton's 2016 Presidential campaign. Ms. Jones received her J.D. from The George Washington University School of Law, where she also completed an International Human Rights Law Program at the University of Oxford. Ms. Jones received her undergraduate degree from the University of Southern California.