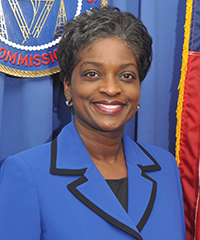 Mignon L. Clyburn served as Acting Chairwoman of the Federal Communications Commission, following her appointment by President Barack Obama on May 20, 2013. As Commissioner, she is serving a second term as a Democrat on the Commission, for which she was sworn in on February 19, 2013 following her re-nomination by the President and confirmation by the United States Senate.
Clyburn began her service at the FCC in August, 2009, after spending 11 years as a member of the sixth district on the Public Service Commission (PSC) of South Carolina. She served as its chair from July 2002 through June 2004.
Prior to her service on the PSC, Clyburn was the publisher and general manager of The Coastal Times, a Charleston-based weekly newspaper that focused primarily on issues affecting the African American community. She co-owned and operated the family-founded newspaper for 14 years.
A longtime champion of consumers and a defender of the public interest, Commissioner Clyburn considers every Commission proceeding with an eye toward how it will affect each and every American. She is a strong advocate for enhanced accessibility in communications for disabled citizens, and works closely with representative groups for the deaf and hard of hearing. She has fought to promote strong competition across all communications platforms, believing that the more robust and competitive the marketplace, the less need there is for regulation. However, when the market is not adequately addressing consumer concerns, Clyburn is an outspoken champion for smart, targeted regulatory action. She has pushed for media ownership rules that reflect the demographics of America, affordable universal telephone and high-speed internet access, greater broadband deployment and adoption throughout the nation, and transparency in regulation. Commissioner Clyburn is a member of the Federal-State Joint Board on Universal Service, Federal-State Joint Board on Separations, and the Federal-State Joint Conference on Advanced Services, all of which she chaired for three years during her first term at the FCC.
Clyburn is a graduate of the University of South Carolina, and holds a Bachelor of Science degree in Banking, Finance and Economics.
David Grossman
Chief of Staff and Media Policy Advisor
Mr. Grossman joined Commissioner Clyburn's staff in March 2016. Previously, he served as Legislative Director and Senior Advisor for Technology Policy to U.S. Congresswoman Anna G. Eshoo (D-CA), Ranking Member of the House Subcommittee on Communications and Technology and a senior representative from Silicon Valley. Prior to joining the Congresswoman's office, Mr. Grossman was the Technology Counsel to the Democratic staff of the House Small Business Committee. Earlier, he worked for the Consumer Technology Association (formerly CEA) as a member of the organization's government affairs team. Mr. Grossman began his career as a research analyst at Kellogg, Huber, Hansen, Todd, Evans & Figel, P.L.L.C., where he supported the firm's telecommunications practice. He holds a Master of Public Policy from George Mason University and a B.A. in Political Communication from George Washington University's School of Media and Public Affairs.
Louis Peraertz
Senior Legal Advisor, Wireless, International, and Public Safety
Louis Peraertz serves as Commissioner Clyburn's Senior Legal Advisor for wireless, international, and public safety issues. Mr. Peraertz joined then Commissioner Clyburn's staff in October 2009. Prior to this, he served as Special Counsel in the Wireless Telecommunications Bureau focusing on competition, spectrum allocation, and infrastructure policy issues. Mr. Peraertz began his communications career in the Office of General Counsel where, among other things, he represented the Commission in several cases before courts of appeal. Before coming to the FCC, Louis served as an appellate litigator in the U.S. Department of Justice's Civil Rights Division and represented the United States in more than 60 cases before federal courts of appeals. He began his legal career in the U.S. Army Judge Advocate General's Corps and was honorably discharged as a Major. Mr. Peraertz received his bachelor's degree from Princeton University and his J.D. from Harvard Law School.
Claude Aiken
Legal Advisor, Wireline
Mr. Aiken joined Commissioner Clyburn's staff from the Office of General Counsel, where he served as Associate General Counsel and Special Advisor on Internet Law and Policy. Mr. Aiken has held a variety of positions at the Commission, including Deputy Division Chief in the Wireline Competition Bureau's Competition Policy Division, Special Counsel in the Office of Strategic Planning and Policy Analysis, and attorney positions in the Wireline Competition Bureau and Office of General Counsel. Mr. Aiken is a graduate of Grove City College and New York Law School.
April Jones
Policy Analyst and Special Assistant
April Jones serves as a Policy Analyst and Special Assistant to Commissioner Clyburn. Ms. Jones joins Commissioner Clyburn's office from Hausfeld LLP, a global antitrust law firm, where she was an attorney focusing on complex civil litigation matters in antitrust and consumer protection law. Prior to this role, Ms. Jones clerked at the Office of the U.S. Trade Representative, where she worked primarily on the E-commerce and Telecommunications portfolios. Additionally, Ms. Jones served as a political organizer on Hillary Clinton's 2016 Presidential campaign. Ms. Jones received her J.D. from The George Washington University School of Law, where she also completed an International Human Rights Law Program at the University of Oxford. Ms. Jones received her undergraduate degree from the University of Southern California.
DeeAnn Smith
Staff Assistant
Ms. Smith joined the agency in 2009 and assists in carrying out the mission of the Clyburn office and the agency. She has an extensive administrative background, including experience in the legal and marketing industries.