2021 Top Five Robocall Complaints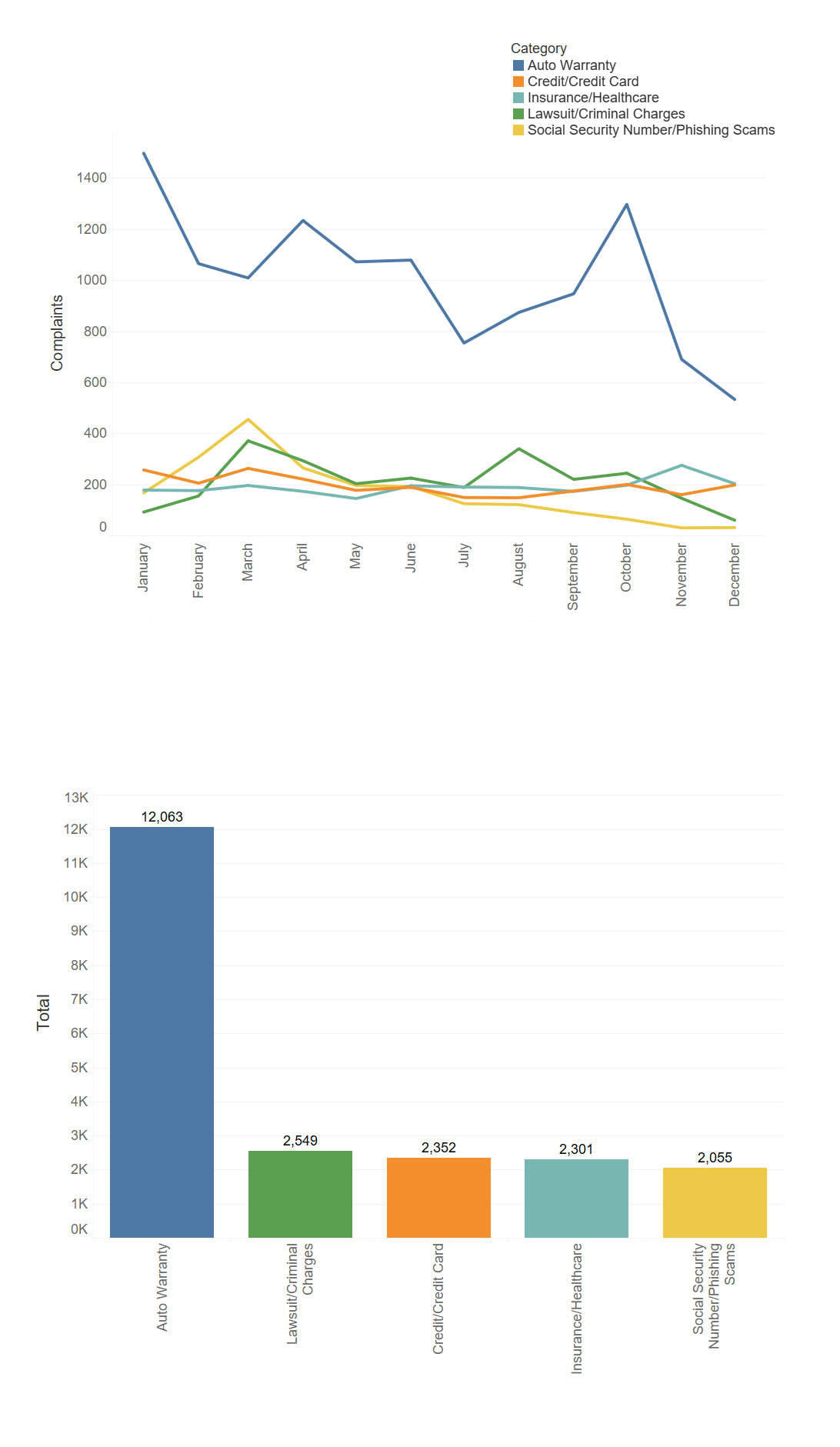 For the second year in a row, auto warranty renewal calls were the top robocall complaint filed with the FCC by consumers in 2021. While the total number of complaints filed with the FCC about auto warranty scams rose from close to 7,600 in 2020 to more than 12,000 in 2021, the complaints were on the decline in the final months of the year.
The calls often include specific information about your particular car and warranty that can make the call seem more legitimate. To hear an audio sample of an auto warranty call and to learn how to avoid being scammed, visit our consumer guide on auto warranty scams.
The second most complained about robocall scams in 2020, social security number phishing scam calls, fell to fifth last year with complaints dropping by nearly 60 percent. Rounding out the top five unwanted call categories reported to the FCC in 2021 were credit and credit card scams, fake insurance and healthcare, and phony lawsuit or criminal charges.
Most of the reports we receive mention that the unwanted call begins with an automated or pre-recorded message that may instruct you to press a certain number or stay on the line.  To avoid robocall scams follow these top tips:
Do not answer calls from unknown numbers. If you do so by mistake, hang up immediately.
Never give out personal or financial information to someone who calls you.
Always use caution if you are being pressured for information or money immediately.
Learn more about robocalls and visit the FCC Scam Glossary at fcc.gov/scams. Also check out our consumer guide on call blocking tools and resources. To file a consumer complaint with the FCC, visit fcc.gov/complaints.
These charts display the breakdown, by category, of the top five informal consumer complaints on robocall scams received by the FCC in 2021. The complaints were filed with the FCC between January 1 and December 31, 2021. The issues reflected in each chart were described by consumers when submitting complaints to the FCC. The FCC does not verify all of the facts alleged in the complaints.