The Native Nations Communications Task Force's mission is to provide guidance, expertise, and recommendations to specific requests from the Commission on a range of telecommunications issues that directly or indirectly affect Tribal governments and their people. This will enhance the Commission's ability to carry out its statutory responsibilities to ensure the availability of communications by wire and radio, and encourage broadband deployment, to all Americans.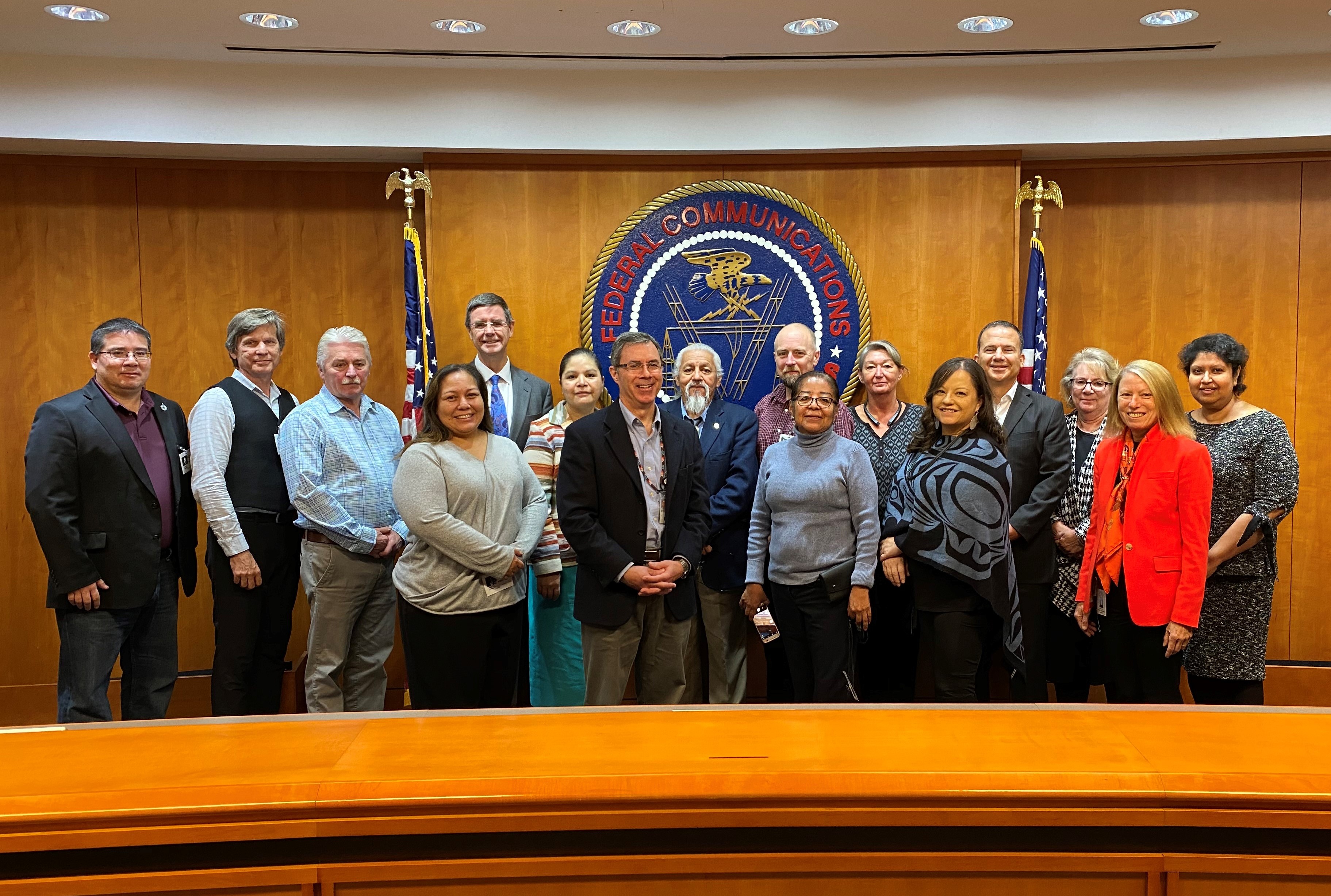 The Native Nations Communications Task Force met at the FCC with Commission staff on Nov. 5-6, 2019.
NEWS
Dec. 31, 2020: The FCC posted a report approved on Dec. 30, 2020 by the Tribal members of its Native Nations Communications Task Force entitled "Recommendations for Improving Required Tribal Engagement Between Covered Providers and Tribal Governments" (download PDF). The report addresses how the Commission can improve engagement over the five elements required by its Universal Service Fund rules, and recommends several additional actions the Commission can take, including the provision of additional guidance, initiating changes through rulemaking and conducting educational outreach programs aimed at producing better and more effective engagement between providers and the Tribes they serve.
May 4, 2020: Tribal Task Force Members' Letter to Chairman Pai Recommending Three-Month Extension of 2.5 GHz Rural Tribal Priority Window. (PDF)
December 4, 2019: The FCC posted a report from the Tribal members of its Native Nations Communications Task Force entitled "Improving and Increasing Broadband Deployment on Tribal Lands" (download: Word | PDF). The report addresses how to close the persistent digital divide between Indian country and the rest of America. It highlights Tribal success stories and provides potential solutions for policymakers that could benefit residents of Indian Country.
October 24, 2018: Chairman Ajit Pai announced the appointment of 19 Tribal members and eight FCC members to the FCC's renewed Native Nations Communications Task Force. The Task Force is comprised of elected and appointed leaders, or their designees, from a broad cross section of Native Nations, as well as senior staff and decision-makers from across the Commission. Chairman Pai also named Matthew Duchesne, Chief of the Commission's Office of Native Affairs and Policy, as Co-Chair. The Task Force helps the Commission fulfill its commitment to increase access to broadband and other communications infrastructure deployment and services on Tribal lands.
February 8, 2018: The Commission issued a Public Notice announcing the renewal and renaming of the Task Force and seeking nominations for membership from Tribal Nations. Originally created in 2011 as the Native Nations Broadband Task Force, the Task Force was renamed to reflect its involvement in issues including, but also reaching beyond, broadband deployment. Members serve for three years.
MEMBERS OF THE NATIVE NATIONS COMMUNICATIONS TASK FORCE
Honorable Cheryl Andrews-Maltais, Wampanoag Tribe of Gay Head (Aquinnah)
Honorable Michael Conners, St. Regis Mohawk Tribe
Honorable Joe Garcia, Ohkay Owingeh Pueblo
Honorable Frankie Hargis, Cherokee Nation
Honorable Andy Teuber, Tangela Native Village
Honorable Joey Whitman, Gila River Indian Community
Bill Bryant, Salt River Pima-Maricopa Indian Community
Crystal Hottowe, Makah Tribe
Kristan Johnson, Tohono O'odham Nation
Donald Long Knife, Fort Belknap Indian Community
Robert A. Lucas II, Tanana Chiefs Conference
Peter McCaslin, Kenaitze Indian Tribe
Will Micklin, Ewiiaapaayp Band of Kumeyaay Indians
Theron Rutyna, Red Cliff Band of Lake Superior Chippewa Indians
Danae Wilson, Nez Perce Tribe
Karen Woodard, Morongo Band of Mission Indians
Clifford Agee, Chickasaw Nation
Christopher Becenti, Navajo Nation
Damon Day, Confederated Tribes of the Colville Reservation
Daniel Gargan, Rosebud Sioux Tribe
James Kinter, Yocha Dehe Wintun Nation
Robert Pollard, Blue Lake Rancheria
Kevin Shendo, Pueblo of Jemez
Jimmy Williams, Choctaw Nation
The Federal Communications Commission members are:
Matthew Duchesne, Office of Native Affairs and Policy, Commission Co-Chair
Janet Sievert, Consumer & Governmental Affairs Bureau
Sue McNeil, Wireline Competition Bureau
Susan Mort, Wireless Telecommunications Bureau
Lisa Scanlan, Media Bureau
David Furth, Public Safety and Homeland Security Bureau
Lisa Gelb, Enforcement Bureau
Jim Schlichting, International Bureau
EXEMPTION FROM THE FEDERAL ADVISORY COMMITTEE ACT
Pursuant to the "intergovernmental communication" exemption of UMRA,[1] the Task Force is not subject to, and is not required to follow, the procedures set forth in the Federal Advisory Committee Act (FACA), 5 U.S.C. App 2 (1988).[2]
ACCESSIBLE FORMATS
To request materials in accessible formats for people with disabilities (Braille, large print, electronic files, audio format), send an e-mail to fcc504@fcc.gov or call the Consumer and Governmental Affairs Bureau at (202) 418-0530 (voice) or (202) 418-0432 (TTY).
FURTHER INFORMATION
For further information, please contact:  Janet Sievert, Legal Advisor, Office of Native Affairs and Policy, Consumer and Governmental Affairs Bureau, Federal Communications Commission, (202) 418-1362, janet.sievert@fcc.gov.
Updated:
Thursday, December 31, 2020