March 14, 2018 - 12:00 pm

The Incentive Auction Task Force and the Media Bureau are launching an important update to the DTV Reception Map to provide consumers with information about their over-the-air TV reception during the post-Incentive Auction repack of broadcast TV stations.
The Commission first launched the reception map in the run-up to the DTV transition to help over-the-air TV viewers understand which local stations they could receive and what signal quality they might expect depending on their antenna type and placement. The map helped alleviate consumer confusion as the transition took place.
The new changes to the map will help support the information needs of over-the-air viewers during the on-going post-Incentive Auction transition, in which hundreds of TV stations will begin transmitting on new channels between now and July 2020. Many stations have already changed channels: for instance, as of today, 50 stations have implemented channel-sharing agreements, and by this summer at least twice that number will change channels. Hundreds more stations are scheduled to transition by next spring.
This transition will not impact cable and satellite viewers, but viewers relying on over-the-air antennas to receive their TV signals will need to rescan their TV tuners to continue viewing certain stations in their area after they move to new channels. Each station will provide viewers with at least 30 days' on-air notice of a channel change, and our updated map will provide viewers with a resource for the most up-to-date information on all changes in their area.
The map functions in the same way as always: viewers can enter their address and see a list of available broadcast station signals. We've added a new column to the search results, labeled "IA," to indicate whether a station may change channels as a result of the auction; "R" denotes a station reassigned to a new channel, and "OS" indicates that the station is an auction winner that has the option to share a channel with another station in the market.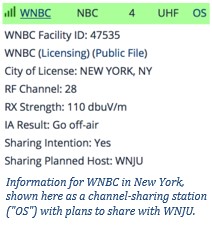 By clicking on the call sign, viewers can see additional details, including the station's new physical channel and, importantly, the station's deadline for finalizing its channel move. For channel sharing stations, the tool will also show available information about the station's channel sharing partner.
The map's auction-related data are updated each night so that the most up-to-date information is available to consumers. This will be critical as the transition progresses; as information changes, the map will change with it.
Along with our Incentive Auction Consumer Q&A and updated consumer guides on rescanning and over-the-air antennas, this updated map will help ensure a smooth post-auction transition for broadcast stations and the viewers that count on them.