The 700 MHz Band is an important swathe of spectrum available for both commercial wireless and public safety communications.  The Band consists of 108 megahertz of spectrum running from 698-806 MHz and was freed up as a result of the Digital Television Transition.  The location of the 700 MHz Band -- just above the remaining TV broadcast channels -- gives it excellent propagation characteristics.  This allows the 700 MHz signals to penetrate buildings and walls easily and to cover larger geographic areas with less infrastructure (relative to frequencies in higher bands).  
In 2008, the FCC auctioned licenses to use portions of the 700 MHz Band for commercial purposes.  Mobile wireless service providers have since begun using this spectrum to offer mobile broadband services for smartphones, tablets, laptop computers, and other mobile devices.
On February 22, 2012, the U.S Congress enacted the Middle Class Tax Relief and Job Recovery Act of 2012 (Spectrum Act) which:
Directed the Commission to allocate the D-Block (758-763 MHz / 788-793 MHz) to public safety for use in a nationwide broadband network; and

Formed the First Responder Network Authority (FirstNet) as an independent authority within the U.S. Department of Commerce. FirstNet is charged with responsibilities for deploying and operating the nationwide public safety broadband network and will hold the license for both the existing public safety broadband spectrum (763-769 MHz/793-799 MHz) and the reallocated D Block.

Allocated up to $7 billion dollars to FirstNet to construct this nationwide public safety broadband network.
The following figure depicts spectrum allocated for public safety in the 700 MHz band after enactment of the Spectrum Act.
700 MHz Band Plan for Public Safety Services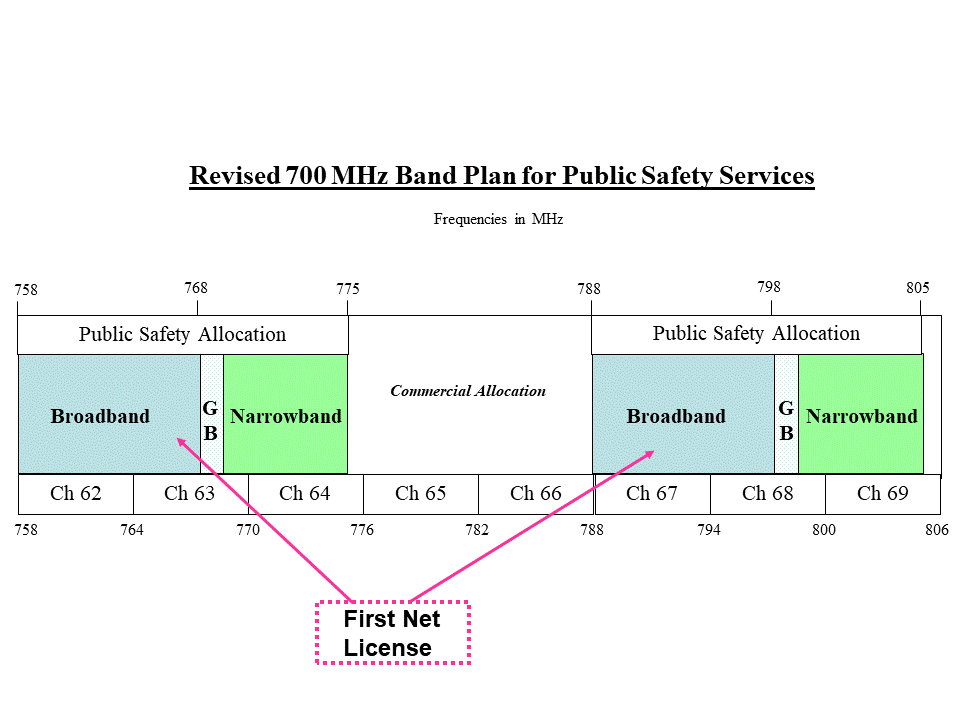 Narrowband Segment (769-775/799-805 MHz)
The Narrowband segment consists of 1920 6.25 kHz-wide channels operating as 960 pairs. Subject to compliance with spectrum usage efficiency requirements, licensees may combine two to four contiguous narrowband channels (6.25 kHz) to form 12.5 kHz and 25 kHz bandwidth channels. These channels are allocated into seven distinct groups and are governed by rules which are codified at 47 C.F.R. Part 90, Subpart R.
Narrowband Interoperability Channels: 128 6.25 kHz-wide channels (64 pairs) designated for interoperability use, including data Interoperability channels, calling Interoperability channels, and trunking Interoperability channels. See 47 C.F.R. § 90.531(b)(1). Administration of these channels occurs at the state level either by a State Interoperability Executive Committee (SIEC) or an equivalent agency.
 

700 MHz Regional Planning

The general use channels and some of the narrowband low power channels are subject to regional planning. There are 55 Regional Planning Committees (RPCs), whose task is to create a plan for General Use in their area is used and submit it to the FCC. The Regional Planning page includes information on regional maps and plans, regional planning committees, and the latest information on regional planning committee meetings. See: 700 MHz Regional Planning Committee Directory.