This page has been archived and is no longer actively maintained by the FCC.
For information on how to rescan your over-the-air TV antenna, visit fcc.gov/rescan.
The FCC has a variety of materials to inform press about the rescan process.
Jean Kiddoo, Chair, FCC Incentive Auction Task Force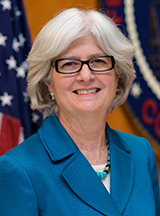 Jean Kiddoo is Chair of the Incentive Auction Task Force at the Federal Communications Commission, where her primary responsibility is to oversee and coordinate all aspects of the Incentive Auction, including the work of the Media and Wireless Telecommunications Bureaus, and other FCC bureaus and offices, as the Commission undertakes the post-auction broadcast transition and award of licenses to winning spectrum bidders.
Jean assumed her Task Force position in April 2017 after having served as Deputy Chair of the Task Force and, prior to that, Deputy Bureau Chief of the Wireless Telecommunications Bureau. Prior to joining the FCC in 2014, Jean was a senior partner in the Telecommunications, Media, and Technology practice group at Bingham McCutchen LLP (now Morgan Lewis & Bockius LLP), where her areas of practice included all aspects of common carrier, wireless, and mass media communications. Jean practiced before all 51 state public utility commissions, the FCC, Congress, and local municipal and county governments.
Jean is a past president of the Federal Communications Bar Association, and received her J.D., magna cum laude, from the Catholic University of America, Columbus School of Law, and her B.A., cum laude, from Colgate University.
If you are interested in a media interview with Ms. Kiddoo, please contact Katie Gorscak at katie.gorscak@fcc.gov from the FCC Office of Media Relations.
In the News