Giulia McHenry, Chief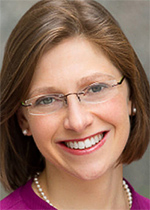 As Chief of OEA, Giulia leads this Office which is responsible for expanding and deepening the use of economic analysis into Commission policy making, enhancing the development and use of auctions, and implementing consistent and effective agency-wide data practices and policies. Giulia joined OEA in 2018 after serving for three years as Chief Economist of the National Telecommunications and Information Administration (NTIA). She is an expert in the economics of the Internet, telecommunications, and media. She has advised and written reports on a range of issues including broadband policy, adoption and access; the digital economy; and the economics of spectrum and spectrum management.
Prior to joining NTIA, Giulia was a Senior Associate at The Brattle Group, where she focused on telecommunication matters, prepared expert reports and coauthored papers related to spectrum management and valuation, broadband deployment, regulatory proceedings, Universal Service Fund, and competition policy. Giulia received her Ph.D. in economics from the University of Maryland in 2009. She specialized in microeconomics, both applied and empirical methods, focusing on network theory and industrial organization. Her dissertation addressed issues related to social networking and entrepreneurship success. She can be contacted at (202) 418-2030.